Welcome to Tororo
Tororo Solar North Limited, is a special purpose vehicle company (SPV) established to develop, build, operate and maintain a much needed, 10MW Photovoltaic Power Plant in Eastern Uganda.
About Us
Overview
The Tororo Solar North Photovoltaic Power Plant is majority-owned by the African Independent Power Producer (IPP) known as Red Rocket. With its headquarters in Cape Town, South Africa it has developed over 2000MW of renewable energy projects with 377MW of projects in operation, under construction and Near Notice To Proceed (NNTP) across the African continent.
Tororo Solar North obtained funding from Financierings-Maatschappij voor Ontwikkelingslanden (FMO) to cover the US$14.7 million construction costs. FMO syndicated 50% of the debt to the Emerging Africa Infrastructure Fund (EAIF) through a Participation Agreement.
Fact Sheet
Tororo Solar North is located in the eastern region of Uganda (240 km east of Uganda's capital Kampala).
This solar power plant has 32,240 photovoltaic panels over 14 hectares.
Zero accidents during construction and subsequent operations.
A 20-year Power Purchase Agreement.
Capacity of 10MWp.
1.2km of new transmission infrastructure lining the solar plant to Uganda's electricity grid.
Tororo Solar North generates approximately16 GWh clean energy per year.
The solar plant has an annual avoided GHG rate of approximately 7,392 tCO2eq.
Tororo Solar North is the eighth renewable energy plant the Emerging Africa Infrastructure Fund (EAIF) has backed in Uganda.
In total, EAIF- backed plants contribute 15% of the country's installed electricity generating capacity.
Tororo Solar North is a beneficiary of the Global Energy Transfer Feed-in-Tariff (GET-FiT) Uganda scheme led by KFW, the German Development Bank, in partnership with Uganda's Electricity Regulatory Agency (ERA).
Benefits
Savings of more than 7,200 tonnes of CO2 per annum (the equivalent of 2,800 petrol-powered cars).
218,400 tonnes of CO2 will be saved during the lifetime of the facility.
Approximately 36, 000 people impacted.
Located close to the Ugandan utility's loading centres, thus reducing technical electricity loss that can occur with long-distance transmission.
Connected to one of Uganda's largest electricity substations.
Created around 350 jobs on the site, of whom 300 were Ugandan citizens, during construction.
Permanent jobs have also been created to assist with the operation and maintenance of the facility.
Because the plant benefits from the GET-FIT programme's tariff supports, Tororo Solar North's output has lowered the average cost of electricity in Uganda.
A number of long-term jobs will be created during the operational phase.
Commitment
Tororo Solar North's risk categorisation on Environmental and Social impacts is B+, according to the IFC Environmental & Social Risk Categorisation Framework.
Social
Today, the 10MW solar plant is making a big contribution towards satisfying the energy needs of 36,000 people in the country's Tororo region, a primarily rural economy located 240 kilometres east of Kampala, Uganda's capital city. As well as its positive impact on the environment and sustainable economic growth, Tororo is bringing additional benefits to the local community by;
Tororo Solar North's investment of over US$ 10,000 into the construction of an Early Childhood Development (ECD) Centre in Asignet 'A' village, Tororo District, and the provision of learner material such as furniture and textbooks. The Centre was inaugurated on 18 December 2018.
The ECD Centre upskills 120 learners from the neighboring villages. These five (5) to thirteen (13) year-old children benefit from additional cognitive learning support such in the areas of reading, writing, maths, and capacity building centred on community outreach and general care.
Economic
Tororo's economy has traditionally relied on subsistence farming. Long-term unemployment is rife. Economic development is therefore an imperative to stimulate business activity and improve the lives of people in the local community. The development includes 1.2 kilometres of new transmission infrastructure to link the Tororo Solar North power plant to Uganda's electricity grid.
Environmental
Tororo Solar North has obtained the requisite environmental approvals under Uganda's National Environmental Authority (NEMA). The solar power plant generates clean, pollution-free electricity that has obvious global and local benefits. Globally, the limitation of greenhouse gasses will positively impact the fight against global warming. Locally, Tororo Solar North helps to keep Uganda's air fresh and clean which, in turn, keeps people and the environment healthy.
Download Environmental Impact Assessment
Tororo Solar North is estimated to save 218,400 tons of CO2 over its life span.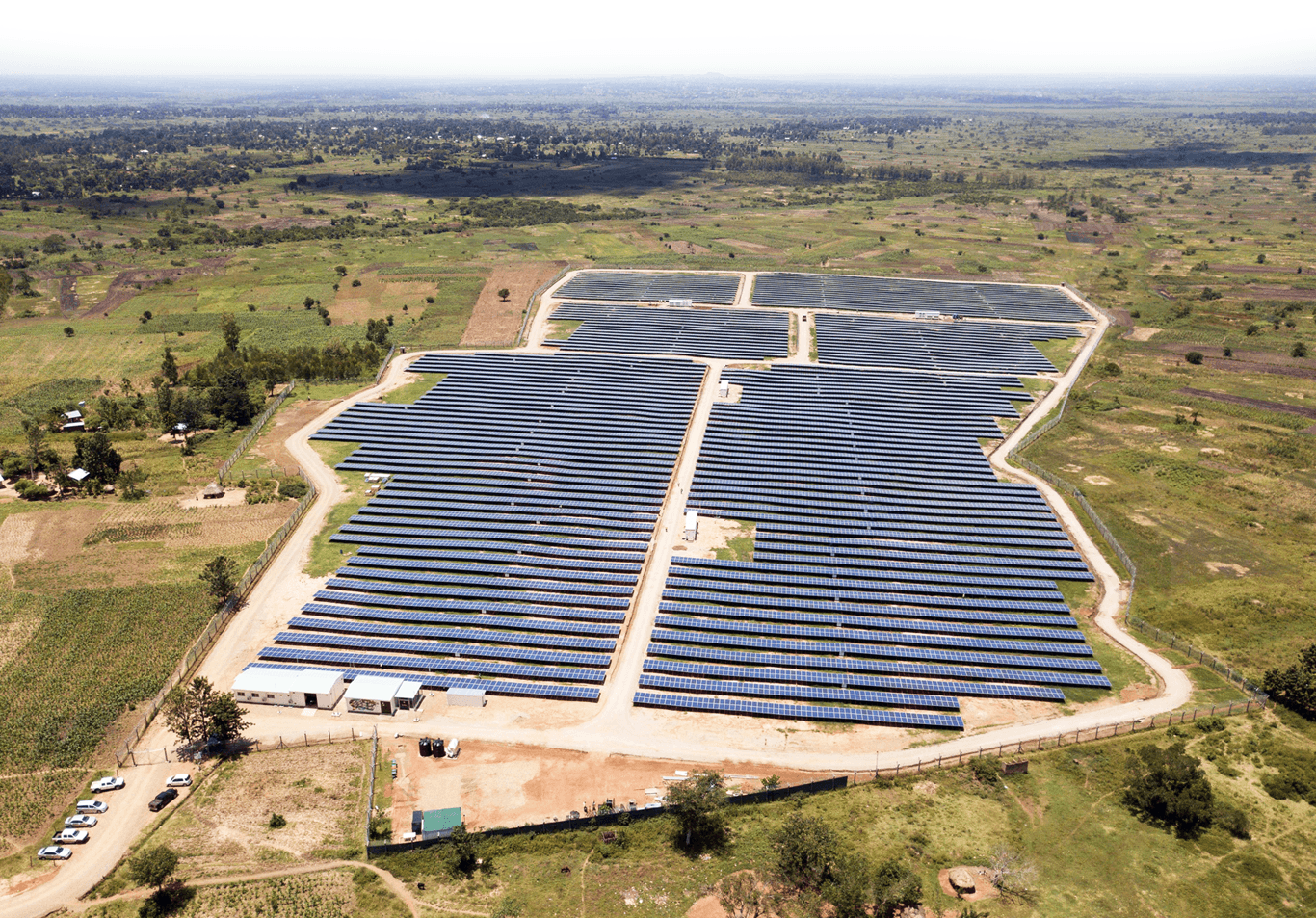 Resources
Solar power starts with solar energy, which is energy produced by the sun. The sun's energy can be stored in solar panels. These panels transform energy into power. They do so in two different ways; Photovoltaic (power used for electricity) and Solar thermal (power used for heating). The solar panels at Tororo Solar North are Photovoltaic Solar Panels - photo - meaning light, and voltaic - meaning electricity.
How do they work?
Solar panels work using the photoelectric effect; i.e. when exposed to light, certain materials produce an electric current. This is the principle used by PV solar panels. The solar cells in the panels convert sunlight into electricity. One cell will provide limited power. Several cells connected in a panel will produce a larger amount of power. When several panels are connected together you have a solar array.
Inside a solar cell there are two layers of silicon crystal. The top layer's atoms have one too many electrons. The bottom layer has empty spaces. The top layer needs to lose a few electrons. The bottom layer needs to gain a few electrons. However, the electrons can only move freely once the solar panel is exposed to light. As light hit the top layer, it allows electrons to flow from the top layer to the bottom, and a current is created!
Solar Energy Facts
One hour of sunlight equals one year's worth of energy for the entire earth.
Solar energy not only reduces carbon emissions, it saves water.
Solar panels don't need direct sunlight to produce power.
Within 30 years, a solar-powered home can reduce CO2 emissions by 100 tons.
Solar panels produce around 10 kilowatts of energy per square foot.
Solar power plants can last up to 40 years and beyond.
When, for whatever reason, electricity supply is lost, solar is the fastest energy source to deploy.
Solar energy is renewable, i.e. it happens naturally and can be replenished.
Although the sun is over 90 million miles from Earth, light from the sun takes less than 10 minutes to reach us.
Unlike almost all other forms of energy, solar energy uses virtually no water.